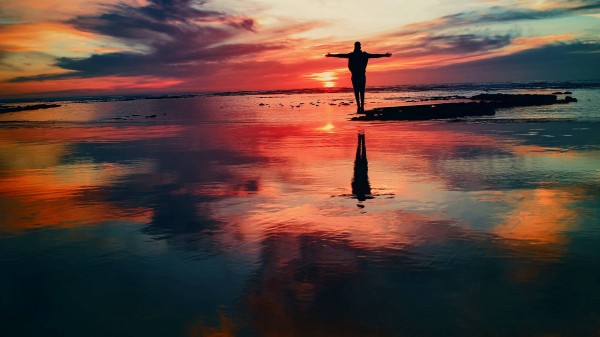 Marcos Frangos is running an online course called "Unchain my heart and set me free…". We're offering an opportunity to explore themes of belonging, freedom and finding a healthier flow in life.
Click here for a video link as Marcos explains the course.
"Unchain my heart and set me free"

Marco's story: "Unchain my heart and set me free"
As I look back at what drew me to counselling, I deeply wanted to understand myself and how I'd become enchained. For three decades I'd had periods of low moods, depression and anxiety. I was also aware that the men in my ancestry suffered from chronic heart disease. I was concerned but also curious: 'what is the heart's role in living a vital life, beyond its purely biological function?'
During my work as a person-centred counsellor I became aware that whilst talking-based therapies can be healing, they can also lead to recycling of old stories. People can have a tendency to (re)tell themselves the stories that reinforce life experiences, even when they don't fully serve us, we stick unconsciously with what we know.
So, I became interested in root causes and systems, like my family of origin system, as well as the many other systems to which we belong: our work, religious or spiritual systems, cultural backgrounds.
Belonging is a profound human need, but it often comes at a cost.
As I trained in facilitating family constellations, I began to integrate our bodies' intelligence and intuition into my work.
Online course Details (via Zoom)
This online course consists of four, 1.5 hour long Zoom sessions.
During this course, we'll be exploring belonging, freedom and flow.
NB: Participants sign up for the whole course as this will be a closed group that will journey throughout the four sessions together, building trust and rapport with one another.
Dates: Tuesday 29 September, Tuesday 13 October, Tuesday 27 October, Tuesday 10 November.
Time: all sessions online, 13.00 -14.30
Location: Zoom (you'll receive the links prior to each session)
Number of participants: 8 places maximum
Price: £100 for the whole series.
Who is this suitable for?
Anyone wanting to explore the topics already mentioned. There will be time to explore these issues and your experiences both within the group, as well as outside of the online sessions.
Marcos will be providing homework practices to deepen personal reflection, journaling or meditation, or nature-based practices. The longer timeframe also allows for insights and practices to become embedded.
This is ideal if you'd like to engage with this work and prefer online channel rather than the in-person experience. This may for example be due to health issues, or COVID-19 restrictions.
Feedback from previous Constellation workshops participants:
"One of those extraordinary times when you quickly sink deeply! I don't think I have ever worked with someone who conveys such deep compassion and who holds a space quite so beautifully. Gentle spaciousness, acute perception and masterful direction. Thank you from deep within my heart"
"We especially appreciated Marcos' sensitivity to our work and the deep respect he showed for each of us as people. He struck a beautiful balance between challenging and supporting us, and between providing structure and enabling emergence. It was a real privilege to have this time together and we will undoubtedly be returning to Marcos for support as we continue our journey."
"Marcos is very skilled in techniques that truly allow old behaviours or even ancestral patterns to be released so they stop getting in our way of our happiness. Our sessions have even benefited my work, as I feel I express that with even more love and equally receive more back from people. Marcos works with exquisite sensitivity but a great deal of skill, and was able to find just what I needed to allow me to have a happier life. Highly recommended!"
How to enroll?
To enroll please telephone the reception 01962 856310, email enquiries@thenaturalpractice.com and where required, please indicate your date preferences and which type of place you'd like
If you have any questions about the online course or Constellation workshops, please send an email for the attention Marcos Frangos
In all cases where someone wishes to do personal work, we'll arrange a short telephone consultation with Marcos to discuss the topic you'd like to explore and your suitability for this work
The small print
Refund of 50% will be granted if you cancel 2 full weeks in advance.
Refund of 25% will be granted if you cancel 1 full week in advance.
We will not be able to provide refunds if you cancel less than 1 full week in advance.